Therapy first
I know some of the readers are sometimes complaining about my reports being negative and not very encouraging for Owners. Believe me I would have loved to be in position to write down these reports back in 2006/2008 and making great comments about the craziness of the shipping market. But we are something like ten years after and unfortunately the market is everything but not crazy. We can assess unreasonably low or boringly depressed, probably still crazy but not in the sense of what shipping people were having in mind 10 years ago. Talking about depression, maybe shipping market need less experts and more psychologists work. Our salvation may come from a deep market therapy. Who wants to start ?
then swallow the pills
On 18th jan, I was highlighting you the panamaxes fixed delivery ECSA for beginning february for destination to Spore Japan range done on average at $9,250 + $420,000 for the ballast bonus. BPI at that time was on the P1A_03 skaw gib trans atlantic round voyage at $10,083. Today, according to BDI, same route is at $9,637 and fixtures done remain almost on the same level. We can just realize (for those of you doubting about the interest of the ballast bonus) ballast bonus seems to be the perfect tools for charterers to negotiate with owners. You get your rate at roughly $9,000 daily. And what about Ballast Bonus ? some lucky owners getting $430,000 some others bit less lucky (depressed or on the way to be depressed ?) getting almost half of this money. On DOP basis (yes it still exists, market is not dead), owners of mv «'SUDESTADA » obtained $6,900 daily. Without doing the maths and the equivalent on the aps + bb easy to conclude owners are happy to have the ship hired for probably 90/100 days. And charterers happy to have a low daily hire, in case loading operations getting delayed, as it can easily be in ECSA.
On the handies, we can wonder what's going on in continent. Wondering what's going on with the grains, leaving a « boulevard » for fertilizers players to drag down their fixing ideas to go to USG. Ex BLSEA, according to information we can gather, rough weather conditions seems to be freezing the supply chain, leading to a slow down in stem availibity, hence less ships demand.
On the commodity market, according to reuters,  here . Algerian are investing money to develop 25,000 hectares for covering various agriculturals needs (a step to become less dependant to oil exportation). For sure, still more to be done to the road of wheat autonomy as 25,000 hectares (assuming all for wheat) with generously 8mt of wheat/hectare/year bring something like 200,000mt of wheat. This would be the equivalent of six to seven stem of 30'000 10pct. It does not necessarly means less shipments in total but to the contrary, to be positive, it could means shipments from Algeria to France in the future (if the French wheat crop is crap again)…
Do your homework
Shall we talk a bit about politic ? no we shall not as we want to remain friends right. So let's take it on the economic side of it. As you know Mexicans seem not to be best Donald J. Trump's friends (when the mexicans coming into USA) but according to below figures, American's seems to be fairly happy to help mexicans knowing the US agricultural sector in 2015 exported agric goods worth $17.69 bn to Mexico. To try to summarize in Donald J Trump's style "why do they need to cross the border illegally, we are selling them the whole food they need?". See below the details of exports from USA to Mexico in $.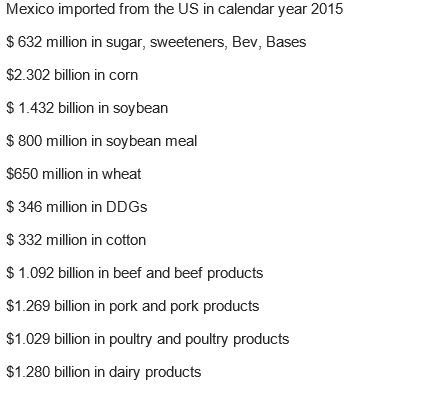 and pray
Shall we talk about Religion ? really no but be sure we religiously do our best to fix in respecting your own interests.
Have a nice afternoon
Jerome